Company Logo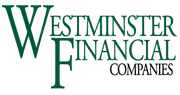 Email
info@westminsterfinancial.com
Disclaimer
The information provided is obtained from sources deemed to be reliable, but Westminster Financial Securities, Inc. cannot guarantee the accuracy or completeness of the information or make any warranties with regards to the results obtained from its use. Nothing in this communication should be construed to contain a solicitation to buy or an offer to sell any security.
Securities offered through Westminster Financial Securities, Inc., member FINRA/SIPC.
Investment advisory services provided through Westminster Financial Advisory, Corp.
50 Chestnut St. Suite A-200
Beavercreek, OH 45440
United States
Company Description
We are dedicated to providing investment management and strategic wealth planning that is right for you. Simply put, we strive to be our client's trusted advisor.